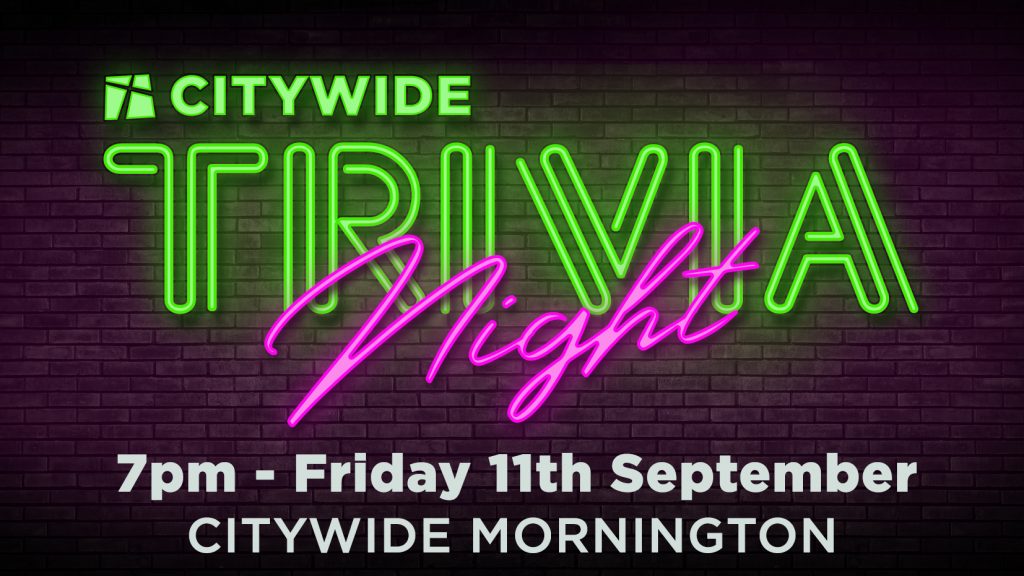 Come along for a night of movie and television themed trivia and fun, and a way to raise some money for a good cause.
Bring along a table of friends or come along on your own to find a table full of new friends. We will then have a couple of hours worth of questions and answers and determine just how much useless information you've accumulated and how much time you've spent watching too many movies and television over the last six months.
When? 7pm – Friday 11th September
Where? Citywide Mornington, 400 Cambridge Road, Mornington
How much? $10 each, $20 for a family, $5 for concession
Where's the money going? The proceeds will be going to help out the Nepali Driving School which offer free driving lessons to Nepali people in Hobart.
Do I need to RSVP? We would love it if you could tell us you're coming and how many you have with you. Simply email church@citywidehobart.org.au.
Is there a theme for the night? Yep! There will be some general questions but there will be a general TV and Movie theme for most of the categories.
Can I dress up? You sure can! Come along as your favourite TV or movie character. Or if you don't feel like dressing up you can simply say you are dressed as one of the people in the background when Captain America is walking through the shopping mall in AVENGERS: AGE OF ULTRON
Will there be refreshments available? We will have some basics of tea and coffee and cordial available, otherwise please feel free to bring your own snacks to share with your table.
We can't wait to see you there!!