9:30am – 12 noon Thursdays @ Citywide Mornington
Time Out Dates for 2023
Term 2: 27 April – 6 July2023
Time Out features around 15 different electives to choose from, including: sewing projects and embroidery, crochet, scrapbooking, card making, spinning, and painting.
For a full list of all the classes currently available, simply click here. or click on the Class List icon.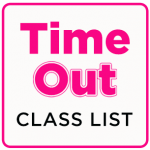 You are very welcome to visit and see the program in action before you decide on a class. Some classes have tutors, others work in a group together on their individual items, or if you simply want some company while you work on your own craft project, you're very welcome to join us. We meet every Thursday, during school terms, from 9.30am – 12 noon and only costs $5 per session which also includes a break at 10.45 for announcements, a Thinkspot and morning tea. There may be extra costs involved for materials depending on the class.
The Time Out Craft program has been in operation since 1994 and provides an opportunity to learn new skills, make new friends and provides respite for those in need.
If you have any further queries or questions please email church@citywidehobart.org.au or contact the office on 62444333.
We look forward to seeing you here!